Balancing online expectations with in-store experiences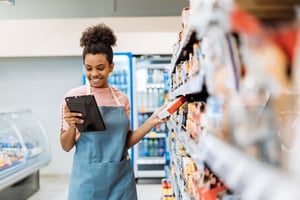 Making sure you have a net for this high-wire act.
During the Pandemic, retailers and grocers saw massive growth in online sales, but the slow and steady return to normal is bringing people back to traditional brick-and-mortar shopping. According to a Prosper Insights & Analytics report, the percentage of adults shopping online dropped from 46.5% in 2021 to 29.9% in 2023. During the pandemic, promoting the safety and well-being of the consumer was the top priority. Businesses began implementing cleaning processes so that people would feel safe returning. Over time, however, greater emphasis returned to the overall customer experience.
In a recent Forbes interview, Anat Shakedd, CEO and co-founder of Nexite, talked about the shift he saw in customer expectations:
"The pandemic caused retailers to reconsider how they were reaching their customers, which eventually led to digital growth as a channel... From digital growth came website optimization, increased personalization, frictionless checkout and returns, better customer experiences thanks to online chat, notifications, last mile tracking, virtual fitting rooms, etc. Shopping in general has become so much more accessible – we can literally shop at any hour, for anything. This has created an entirely new set of expectations."
In light of these new expectations, we have seen a rise in the type and volume of technologies being implemented, such as augmented reality try-ons, kiosks and smart screens with personalized product recommendations based on browsing history, contactless self-checkouts, and a wide range of RFID products for shopper data and inventory management. The hope is that building out unique in-store experiences will not only outweigh the convenience of shopping from the comfort of your home, it will also blend the experiences for a more seamless and personalized approach.
Solutions like these not only enhance the customer's shopping experience and provide rich data for retailers to analyze and predict behavior, but they also help alleviate the workload to maximize the efficacy of a minimal workforce. Win, win… win!
When building technology frameworks, however, it is critical to remember that even the most well-designed plan will fail without the proper network infrastructure to support it. They not only need to support the systems themselves, they also need to handle a wide influx of personal devices. Additionally, in-store products, building materials and environmental factors could potentially impede network performance if not properly accounted for during the design phase. Many businesses have implemented a dual backup solution with a cellular component to add an additional layer of protection.
Ultimately, the network acts as a safety net while businesses try to find the balance for their customers between what they experienced online and what is possible within a brick-and-mortar environment. The key is not letting the project become a circus.