Technology Focus: Self-Checkout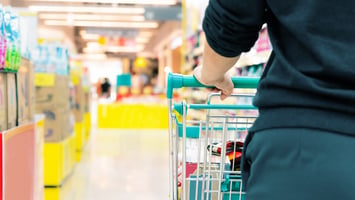 What does self-checkout (SCO) look like in the future? How are technologies continuing to evolve and what role do consumers have on adoption?
Self-checkout (SCO) is not a new technology; however, adoption has grown in recent years. Contactless shopping grew in popularity during the Covid pandemic and while people are less focused on contactless, they still enjoy the benefits of SCO. Most grocers and big box retailers have implemented a hybrid of both traditional cashiers and SCO kiosks. This provides the flexibility consumers are looking for when it comes to interacting with retailers on their own terms.
A relatively recent variation on SCO technology is Scan-and-Go, which allows consumers to scan products while shopping using a mobile app. They then pay either at an SCO kiosk or through the app. Wegman's implemented Scan-and-Go in 2019, but discontinued the service in 2022 due to the high volume of losses due to theft. However, that hasn't deterred a growing number of retailers, such as Sam's Club, Hy-Vee and Walmart from offering that option.
Randy Crimmins, Chief Strategy Officer of Stor.ai, recently told Grocery Dive, "It's such a fragmented consumer marketplace out there today that you want to make sure that you're offering everything you can to appeal to your shoppers and make sure that you not only grow your shopper base, but your retained base, because everybody is nipping at you." This reinforces what speakers at the 2023 NRF Conference in New York said about consumers increased expectations around omnichannel experiences.
The latest evolution is a product called "Just Walk Out." Developed by Amazon, the technology was first introduced at an Amazon Fresh store in Bellevue, WA in 2021. They have since piloted it at 28 additional locations. How does it work? According to their website: Amazon's Just Walk Out technology enables you to enter a store, grab what you want, and get going without stopping to check out. It leverages the same types of technologies used in self-driving cars: computer vision, sensor fusion, and deep learning. Without a checkout process, you can quickly and easily get the items you need without having to wait in line.
Touted as a frictionless experience for consumers, how much friction will it cause retailers? Amazon claims the technology is scalable. However, it's still too early to tell just how scalable the technology is or what issues may occur when testing its limits. Maintenance is another looming question as well. The system relies heavily on a multitude of cameras and can take weeks to deploy in a single environment. Including the technology as part of new store openings will eliminate implementation disruption for existing stores, but there are still maintenance costs to consider, as well as turnaround time on repairs.
While we are certainly seeing many advances in the self-checkout space, I think we are still a few years away from truly frictionless options. Retailers looking to pilot these new technologies should talk with implementation partners early in the decision process to prepare a rollout plan that minimizes disruption not only during the implementation, but also during ongoing usage and maintenance as well. Those costs need to be considered when looking at the total cost of ownership for the solution.