The Role of AI in Retail Security Technology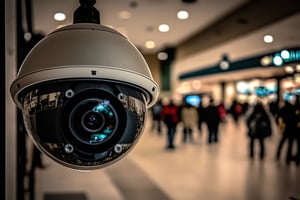 When we think of Artificial Intelligence (AI) and security, it is easy to conjure images of WOPR (Joshua) from WarGames. However, modern day retailers have found numerous applications for AI and security technology without the catastrophic risk attached. One possible factor driving the trend is the lingering impact of Covid-19. According to the National Retail Federation's (NRF) 2022 National Retail Security Survey (NRSS), retailers saw theft and violent crimes increase during the pandemic, likely due to severe staff shortages. With worker shortages persisting, AI has become an attractive addition to retail security technology solutions.
Key reasons retailers are leveraging AI:
Loss Prevention – (Enhanced Video Surveillance, Self-Checkout Monitoring, Smart Shelves, Access Control Systems, License Plate Readers). AI algorithms take a proactive approach to loss prevention rather than the traditional reactive approach of investigating after the fact. According to NRF's report, 52% of retailers plan to increase capital and equipment budgets to improve loss prevention.
Violence Detection & Prevention – (Enhanced Video Surveillance, Access Control Systems, License Plate Readers). In 2020 there were 485 violent incidents, a 14 percent increase over 2019. These incidents resulted in 523 fatalities, of which 76 percent were customers, store associates, and security personnel. The rise in active shooter incidents has led to an increased focus on AI tools for object detection, anomaly behavior recognition, and alerting.
Customer Experience – (Enhanced Video Surveillance, Self-Checkout Monitoring, Smart Shelves, RFID). According to a report by CDW, customers want to feel safe when they shop. Technologies such as enhanced video surveillance add a level of safety in addition to deterrence and prevention. Additionally, well-maintained inventories help avoid frustration for customers. Solutions such as RFID and smart shelves can prevent stock outages or help locate items for customers.
With retail shrink costing the industry nearly $100 billion according to the NRSS, the ROI for adopting AI security solutions may seem like a no-brainer. However, there are a few factors to consider when evaluating your transition. For example, is there an existing network infrastructure to support the solution? If so, is it robust enough? What about the physical devices… Are you installing new devices? Replacing or upgrading existing devices?
Another consideration is software. When evaluating an AI software solution, it is important to look at whether your existing hardware is not only compatible but also meets minimum spec requirements. For example, if the resolution on your cameras is not sufficient, you may not benefit from all the analytical and identification capabilities you are paying for.
As with any technology project, it is critical to collaborate with an implementation partner to outline goals and evaluate current infrastructure capabilities. This will ensure as smooth a transition as possible while helping to eliminate common pitfalls that often arise in today's device-rich environments.