Top Five Takeaways from NRF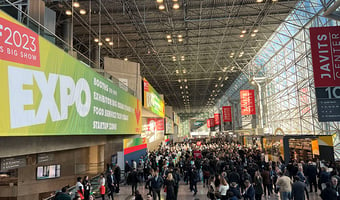 It's been one month since NRF's Big Show wrapped in New York City, giving us time to reflect on everything we learned and put together our five biggest takeaways. With multiple floors of exhibitors, innovation labs, a wide range of keynote speakers and educational sessions, there was a lot to take in. But several clear themes emerged early on; customer experience; physical stores; the role of technology; and sustainability of the industry.
1. Grocers are seeing tremendous growth
Not surprisingly, the grocery industry dominated much of the show. Pandemic? People still need food. Inflation? Still need food. Even with supply chain shortages, rising prices, and staffing issues, several grocers remained on the top 10 retailers of 2022, by sales volume worldwide, according to a report outlined by Deloitte. Jack Sinclair, CEO of Sprouts shared that "2022 saw significant change for grocers in terms of new wants and consumer behaviors." These changes included 15% growth in online sales (on top of the 40% growth experienced from 2019 – 2021), and 12% increase in grocery app usage. Sinclair also highlighted that 85% of consumers cite rising prices and inflation as one of their top 3 concerns and 75% of consumers believe the economy will be impacted at least 6-12 months. Yet 75% also want to eat healthier and 31% are willing to increase their spending on sustainable food.
2. Consumers are driving an omnichannel approach
Every speaker, regardless of industry, was focused on one central theme: Customer Experience across every channel. According to Travis Freeman, Senior Vice President, Demand Generation at Inspire Brands, consumers want flexibility and control over how they chose to interact with retailers. They also want a consistent experience, regardless of which channel they chose to interact through. In turn, those interactions provide data driven insights for retailers. Christopher Thomas-Moore, SVP, Customer & Store Experience for Domino's talked about how the restaurant of the future will have even more flexibility for customers.
3. Technology is trying to get "frictionless" right
Rodney McMullen, CEO, of Kroger said during his keynote, "If you realize you're using technology, it's not good enough." Technology needs to be seamless. If you realize you are using it, chances are there is a problem and that is the quickest way to impact customer experience. Yet it's not just a matter of whether the technology is working, but is it the right technology in the first place? The answer can vary from retailer to retailer. For example, Wegman's announced at the end of 2022 the decision to discontinue its scan-and-go service, a decision that frustrated many shoppers. A spokesperson for Wegman's shared the reason for stopping was the high level of loss since implementing it in 2019. Marvin Ellison, CEO of Lowe's Home Improvement referenced "experience without friction" during his keynote. In the case of Wegmans, the experience caused friction for the business itself via loss from theft.
They elected to stop the service just as many other grocers began reevaluating in-store technologies and looking for frictionless checkout opportunities. Instacart, for example, just announced the debut of their scan & pay solution with a New York City grocer. Retailers will need to evaluate what they deem a frictionless experience and whether or not that applies to all parties, or just the consumers. They also need to keep in mind that "simplified" doesn't always translate to "frictionless." Many technologies may have a learning curve that make it cumbersome for certain consumers.
Jason Buechel, CEO of Whole Foods, discussed looking to simplify checkout through technology pilots. Currently they are piloting smart carts while also bringing a technology focus to employee retention. By automating or simplifying certain tasks, associates can not only function more efficiently, but they will also have extra time to engage with customers and feel more fulfilled. Christopher Thomas-Moore shared that Domino's has an innovation garage built for technology innovation, stressing the importance of evaluating and piloting new technologies to reduce friction when implementing store-wide.
4. Sustainability isn't just a buzzword anymore.
Climate and sustainability were a recurring topic during NRF, namely for the multitude of reasons it's impacted retailers in recent years. We wonder how much our food supply will continue to be impacted by floods, drought, conflict, rising temperatures, and early freezes. Or if raw materials will remain at levels capable of sustaining growing demand. Yet it wasn't all doom and gloom. Grocery chains such as Kroger are focused on zero hunger / zero waste by supporting local food banks to eliminate waste and give back to their community. Companies like The Home Depot talked about sustainable approaches to technology refreshes and making sure decommissioned technology is recycled to reduce impact. Consumers are becoming more conscientious as discussed earlier and so too are the businesses they patron.
5. Physical Stores are not dead, they're changing.
The last big catch phrase of the conference was, "Physical is not dead, it's changing." And we tend to agree. The store of the future was described as less about the store and more about the business model. Several speakers shared how they have reimagined their space, many including an experiential element. Camp, which touts themselves as a family experience company, has their typical retail space with an added ticketed area that allows patrons to access a separate immersive experience centered around a themed film. Activities create an experience for families, while merchandise is geared towards that film or theme. By regularly swapping out the experience, they encourage re-engagement throughout the year. Experiences have been growing in popularity as they "pop-up" in major cities across the U.S. The store of the future has personal journeys, frictionless processes, a sense of community, endless aisles, pick-up points, virtual or metaverse stores, in-person experiences and on-demand support through every-channel. And at the heart of all that lies… technology.