Successful Network Hardware Deployment Across 1000 Retail Store Locations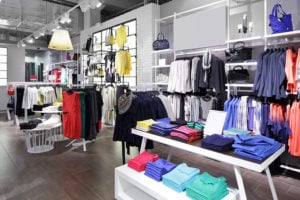 Maintaining a modern technology infrastructure across many remote locations can pose a challenge to any organization but it is crucial for gaining and satisfying customers. As the retail climate heats up with more competition across expanding channels, retailers with multiple dispersed stores need peace of mind that the technology at every location operates efficiently to provide optimal customer experiences.
The Challenge
With an expansive network of over 1000 locations ranging from free standing stores to mall and outlet locations, an innovative global apparel retailer, that has evolved its brand since 1853, wanted to bring together the network hardware of its remote locations onto one unified platform designed to support future growth and flexibility. The project required an orchestrated migration from an unmanaged hub environment to managed routers, switches and wireless APs. They had already purchased the hardware so a rapid deployment was very important to maximize the maintenance and licensing support included with the equipment and make the most of their investment. The retailer also had an initiative to conduct site assessments and perform cabling cleanup and consolidation work before the equipment could be installed.
High priority for the retailer was finding a partner with a large team of technicians, proficient across multiple technologies, and able to meet the aggressive, four month delivery schedule of a multi-phase project. Another key requirement was the capability to perform all technology changeovers after normal business hours.
Delivering Results
Once selected for the project, our team worked closely with the company's IT organization to develop an installation guide and project plan for both the site assessments as well as the equipment installation. Our phased approach began with the site surveys and assessments along with meetings with landlords and mall management to ensure the work could be performed after hours.
We managed the CPE staging and configuration, equipment deployment and then onsite test and turn-up. They also upgraded the workstation cabling, cleaned up network rack cables as well as installed low voltage wiring. These multi-location projects always come with critical details to manage. Our team preemptively contacted store location landlords and mall management to get all approvals in advance - for example, when scissor lifts were needed to reach ceiling heights safely. Managing these and other details in advance ensured the team met the rapid deployment schedule and minimized project delays.
Key Takeaways
Deploying technology into remote store locations is complex especially when pre-installation site rework is required . A comprehensive project plan and installation guide must be developed to ensure that remote teams follow best practices for executing a multi-phased plan. By using a single provider to manage the site assessment, cabling cleanup and equipment installation, this retail client cut overall project costs. In addition, consolidating the processes enabled the retailer to compress the overall execution timeline which virtually eliminated any impact to the stores' business operations.