Why Zero Touch Deployment Doesn't Mean What You Think It Means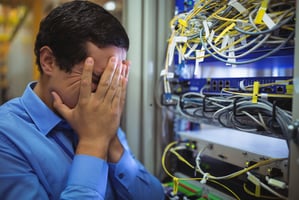 SD-WAN provides many deployment benefits that make it an excellent choice for retailers and other organizations. It's faster, easier, and less costly to deploy than hardware-defined networks, and it provides extra layers of security.
Furthermore, an SD-WAN like VeloCloud boasts a zero-touch deployment, meaning that it can be configured without even pulling the device out of the box. For some organizations, the device will perform quite nicely straight out of the box, automatically shaping traffic according to over 2,000 predefined application policies.
However, just because the SD-WAN itself offers a zero-touch configuration, doesn't mean the entire deployment will be zero touch. In fact, it can be a costly mistake to assume that it will be completely simple and hands-off.
What Zero-Touch Deployment Really Means
Zero-touch deployment means that you do not have to configure the VCE device by plugging it in, connecting a computer to it, and using its command line to configure it. Instead, the device is configured via the VeloCloud Orchestrator ("VCO") or equivalent.
This requires zero physical touch, but that doesn't mean it involves zero complexity.
Two Reasons Zero-Touch Isn't Really Zero-Touch
There are three big reasons why zero-touch usually doesn't really mean zero-touch. While some organizations can simply install an SD-WAN straight out of the box and gain its benefits immediately, for most organizations this will not be the case, for two reasons:
Rarely is the device the only item being installed. Usually there is also at least a new circuit installation. This is because the VeloCloud SD-WAN provides outstanding performance across any circuit type, leading many users to switch from higher cost circuits and replace them with DSL, cable, or cellular. Each of these circuits will require a test and turn-up process to ensure they operate correctly. In other cases, other elements of the network may be replaced at the same time, leading to the need to carefully configure all portions of the network.
In most cases, the out-of-the-box functionality does not match the needs of the network. To make sure it does, you'll require expert assistance ahead of time to fully understand your network design, and translate that into the site, group, and enterprise policies in the VeloCloud Orchestrator.
Organizations that buy SD-WAN expecting a truly zero-touch deployment are often sadly disappointed, and sometimes end up spending more than they expected when their deployment becomes unnecessarily complex or fails to meet their needs.
If you have access to internal technical teams with SD-WAN deployment expertise, involve them in the deployment process early. If not, it's a good idea to engage an outside expert team to help you prevent costly mistakes and ensure a smooth roll-out.