4 Ways to Optimize Guest WiFi for Your Customers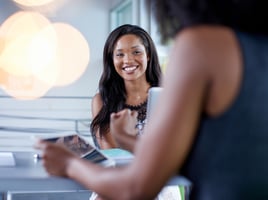 Offering WiFi to customers is a smart move for retailers. It improves the customer experience, helps to increase customer loyalty, provides benefits to your organization's marketing efforts, and can even help improve sales. However, a bad WiFi installation can be worse than no installation at all, causing frustration to customers and employees alike, and canceling out any benefits while leaving you stuck with the cost.
Even when you've invested in the highest speeds available, you can end up with a slow connection, dead spots, or customers losing their connections. Most problems with customer WiFi can be traced to either bad planning or bad installation. Here's what you need to know to ensure your customer WiFi rollout goes as planned.
One: Plan for Current and Future Users and Uses
Both the number of users and the number of uses impact WiFi performance. Too many of either can slow down a connection that isn't designed to handle the traffic. Identify how many people are likely to be in your facility during its busiest times, and plan to accommodate those numbers. Also consider additional onsite devices, such as handheld scanners and other technologies, that may use bandwidth on your customer WiFi.
Two: Conduct a Site Survey
As more and more businesses embrace customer WiFi, the air space becomes more and more crowded. You may have witnessed this when opening your computer in a coffee shop and discovering that there are dozens of WiFi options to choose from. If not properly planned for, this can interfere with your WiFi connection, and frustrate customers. A site survey should pinpoint all existing WiFi frequencies in use. Your designers can use that information to choose optimized frequencies for your WiFi.
Three: Avoid Dead Spots
The floor plan and design of your facility can cause dead spots in your WiFi coverage, which can interrupt the customer experience and reduce its benefits. For example, a restaurant we worked with recently originally did their own planning and installation. Shortly after installation, they discovered that many of their customers were not able to access the WiFi, depending on their locations in the store. They thought that simply having enough access points would be enough, but without a clear understanding of how WiFi signals work, they weren't able to plan well enough to avoid these dead spots. They called us in, and we did a site survey that uncovered the problems. We designed a new set of access points and reinstalled their WiFi, and the problem was fixed.
Four: Conduct a Post-Install Validation
Even with careful planning, actual site conditions can cause problems with your WiFi installation. It's important to have someone knowledgeable conduct a post-installation validation to ensure that there are no dead spots, that speeds are as expected, and that there are no problems with the connection. Do this prior to announcing the WiFi to customers to avoid disappointment and frustration.