Technology Project Management: Keeping Everyone and Everything on Track
When it comes to technology project management, organizations often are faced with two significant in-house challenges:
Developing the in-depth project management skills necessary to make sure nothing falls through the cracks in complex projects with many touch points.
Setting up the project communication and escalation channels necessary for success in a fluid environment – worth mentioning on their own, but also key components of project management.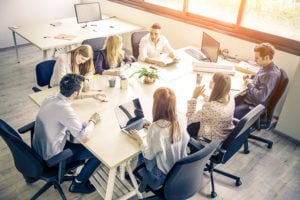 That's not meant as criticism of other organizations. They're focused on the capabilities they need to grow their businesses and achieve their goals, and highly sophisticated project management isn't one of them.
However, in a complex technology deployment, project management is a make-or-break function. Installing or upgrading advanced networks that run voice, data, surveillance and signage systems requires planning, adherence to timelines and attention to detail. That's true of one site, but multiply it by 100 or 1,000 and a poorly run project can spiral out of control. That's why we consider project management a core competency of any company in our line of work.
In part three of our series, "5 Ways to Ensure the Success of Your Complex Technology Deployments," we're taking a closer look at project management and the role it plays in bringing deployments home on time and on budget. We'll focus on three core elements of project management methodology: people, plans and processes.
Naming a leader and a team
It takes a village to manage a deployment, and in addition to a project manager, a project team features these roles:
Program manager, who determines resource requirements.
Project coordinator, responsible for administration and scheduling.
Project administrator, responsible for deliverables and billing.
Staging and logistics team, which, when a project requires equipment on-site, makes sure that it arrives ready to be installed.
While all roles are necessary, the project manager leads the team and the project, and the part he or she plays is pivotal. This person keeps each phase moving along, coordinating the changing roster of technical and vendor partners, and, most important, assigning responsibility and holding people accountable. The project manager will write the plan, but also must know how to ask all the right questions and keep everyone focused to avoid delays and cost overruns.
It goes (almost) without saying that a project manager needs to have technical knowledge about product and service offerings, even if his or her background isn't technical. In our business, that means people who are experienced in multi-site, multi-platform projects and have a working understanding of the network, data and voice, digital signage and surveillance technology clients use and how we design and deploy it.
Beyond that, the right combination of hard and soft skills will take a project manager (and project) far. Hard skills relate to the knowledge of project management tools, techniques and project governance processes used in complex deployments. They're critical, but soft skills are just as important. These non-technical skills include negotiation, team management and the ability to multi-task.
But the most important soft skill is communication, which accounts for a significant percentage of a project manager's time and can make or break a project. In fact, according to the Project Management Institute's Pulse of the Profession™ In-Depth Report, highly effective communicators are more likely to deliver projects on time and within budget. That's something we've certainly seen in our deployments.
Good communication processes and regular project status meetings (more on them below) offer structured opportunities to provide updates on schedules and consider issues. But many project challenges don't present themselves conveniently and need to be resolved outside formal meetings. That's when the ability to communicate effectively becomes so important to a successful deployment.
Creating a plan and following processes
Technology is our bread and butter, so it's no surprise that we fully embrace the tools out there today to plan and manage projects. A number of our team members hold the PMP designation, an accredited project management certification earned through the Project Management Institute (PMI).
Providing effective tools and training to project managers is particularly important in complex technology deployments, which typically feature multiple phases and many steps that need to be planned and scheduled:
Project initiation, including a project kickoff meeting.
Discovery, which includes an exploration of the business environment, technology solutions and deployment practices necessary for the project.
Solution design of the physical infrastructure and technology configuration, staging and installation.
Planning and resource management, including pilot site selection, deployment methodology and transition, establishing KPIs and deployment team training.
Pilot phase, a test run to verify scope and make necessary changes prior to deployment.
Deployment of the solution to the customer's desired locations.
Closeout of the project, which involves customer acceptance of the sites installed.
While technology tools keep track of all the moving parts of a deployment, good project control and governance processes provide methods to deal with contingencies. Those include processes to manage scope, schedules, changes, resources and communications, escalate problems and deal with issues and risks.
Meetings are an essential element of project management: both regular, recurring meetings for all project stakeholders to review project status, changes and issues, and periodic stewardship meetings for executive sponsors to discuss broader issues, such as KPI attainment versus goals. In particular, the often-underestimated kickoff meeting is a key to success. We take them very seriously and encourage two kickoffs – one for all internal resources involved in a project and the other with our customer.
In the end, effective project management offers peace of mind to both clients and their technology partners. A great plan and project manager provide direction and clarity while at the same time establishing processes to deal with the hiccups that can happen in a complex deployment. They ensure that deployments are done right the first time – on time, on budget and up and running quickly.