On Demand Tech Support – What is Technician as a Service?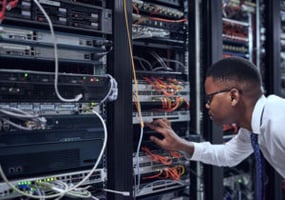 Most large organizations by now are familiar with the term, Infrastructure as a Service (IaaS). IaaS is accelerating as more companies realize the cost and operational efficiencies available, and invest in virtualizing their computer resources in the cloud.
IaaS is an effective on-demand model for computing workloads, but it does not address IT support efficiencies for on-premise technology, in particular distributed IT devices for multi-site businesses. The concept of Technician as a Service is less well known, but equally game-changing concept that addresses the on-premise need.
Definition: Technician as a Service (TaaS) is a delivery model for on demand tech support for remote, multi-site environments. Technician as a Service ensures that remote locations have on-demand access to skilled on-site technicians to address unforeseen downtime issues.
5 Problems with the Current Tech Support Model

Providing quality, timely technical support can be difficult for companies with many locations and multiple technology platforms. It's not cost-effective to staff in-house technicians at every remote site, nor is it cost-effective to send technicians on site for every issue. More importantly, industries such as restaurant, retail, and financial services rely on remote stores and offices to drive sales, and interruptions in computing availability can impair revenue.
At the same time, onboarding and managing multiple vendors to cover all of the sites and all of the technologies can involve extensive overhead. Additionally, this approach results in widely varying levels of skill and professionalism from the outsourced teams.
Without a better solution, many companies with multiple dispersed locations rely on local managers and staff for IT troubleshooting and resolution. This results in several problems:
Down systems at a remote site can adversely impact revenue generating activities.
The technical knowledge of staff can vary widely from site to site, resulting in inconsistent ability to resolve issues.
Time spent by non-technical staff on technical issues directly impacts their productivity at their real job.
Corporate IT remains engaged for longer than necessary on each problem because of gaps in the onsite staff's technical knowledge.
Documentation for onsite resolutions is often unreliable or non-existent.
How Technician as a Service Works
Technician as a Service makes it easy for organizations to engage reliable, knowledgeable, professional onsite support on an as-needed basis. Instead of hiring technical staff or relying on a dispersed network of vendors, Technician as a Service provides one central point of contact to access fast, knowledgeable on-site technician support.