6 Benefits of the On-Demand Technician Model for Your Enterprise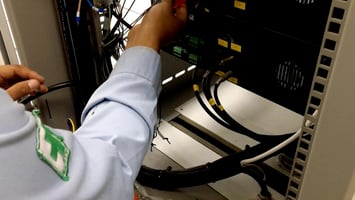 For large organizations with dispersed locations, onsite technical support continues to pose significant challenges. Maintaining a large, diverse workforce of technicians who can be available at multiple sites is often impossible, while relying on non-technical onsite staff to troubleshoot and manage technology creates its own problems. Likewise, contracting with local providers can be unwieldy and provide unreliable results.
That's why many enterprises are switching to the Technician as a Service model. This on-demand tech support model can eliminate many of the challenges of managing technology across dispersed locations, while delivering significant additional benefits. Here are 6 of them.
1. Reduce Overhead

Building and managing adequate onsite support for distributed locations is costly. With Technician as a Service, you eliminate the need for under-utilized technical resources at a remote location, including all of the overhead associated with maintaining and managing those resources.
2. Decrease Down Time
When one of your sites experiences a technology-related disruption, it can substantially impact productivity for non-technical staff. In addition to time lost due to the technical problem, when non-technical staff have to engage in troubleshooting and resolution activities, it takes them away from the work they were hired for.
When you switch to on-demand tech support, a highly skilled onsite technician is always one phone call away. It also means that whatever specific technical skills are needed, you can be matched with a technician who brings the right capabilities. Decreased downtime means your employees stay productive and your location continues to generate revenue.
3. Simplify Your Cost Structure

With quality and timely tech support, your dispatch cost is always known in advance, and you pay only for what you use. No more juggling payroll against anticipated needs or waiting for bills to roll in from multiple contractors. This means that you have nationwide on-demand tech support with simplified billing that you can budget for in advance.
4. Improve Consistency

When you contract with local technicians to serve individual locations, it can be difficult to control quality of service. Skill levels, professionalism, and knowledge of technologies can vary widely. With Technician as a Service you contract with one company, so you can and should expect a consistent experience across all of your locations no matter what technologies you employ.
5. Drive Speed to Market

A trusted relationship with a Technician as a Service provider can significantly improve your capability in opening, managing, and supporting new locations, as well as in launching new technology initiatives. Likewise, when it's necessary to close or relocate a site, you'll know your technician needs are handled.
6. Enjoy a Single Point of Contact

When an issue arises, you'll know you're covered with a single phone call. No more looking up which of several contractors covers the specific location, no more trying to work with on-site non-technical staff to figure everything out. With quick and knowledgeable on-site tech support, your single point of contact will take up the issue immediately and see it through to resolution.
It's easy to see why so many enterprises are switching to the Technician as a Service model. It saves time, money, and hassle, and improves overall functioning of your organization across many locations.
If you'd like to learn more, we'd love to talk with you about how Trextel can help you gain these benefits.