How Can 5G Transform the Way You Roll Out Retail?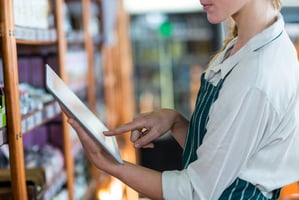 The next generation of cellular service is upon us. In December, the 3GPP approved a first set of
industrywide 5G standards for telecoms, and most major networks are announcing substantial roll-outs across the nation in 2018.
Most experts agree that 5G will change the way small businesses operate. 24/7 Wall St predicts that commercial spend on 5G "will be huge" in 2018. AT&T just announced it would launch 5G service in a dozen U.S. cities before the end of year. Anyone who is responsible for technology spend in the retail sector should be taking note, as 5G has the potential to transform the way you roll out technology to new locations, as well as how you maintain tech at existing locations.
Why 5G is a Big Deal

Each new generation of cellular service offers higher speeds and capacity, with lower latency. That is exactly what 5G does, but on an unprecedented scale. 5G operates with a 5Ghz signal and will offer speeds up to 1Gb/s for tens of connections or tens of Mb/s for tens of thousands of connections.
This is on par with most existing hard wired connections, and nearly on par with the top speeds and capacity of highly touted fiber connections, essentially making fiber obsolete before it's even fully rolled out. This means that most commercial operations will no longer need a hard wired connection, even when running multiple applications across multiple systems.
The Benefits of 5G for Retail Roll-Outs

With the right set-up, a retail location can connect all of their technologies via 5G. Point of sales, inventory, communications, and everything else inside your store will operate exactly as it always has, but without a hard-wired connection.
For retail rollouts, 5G means:
Cheaper deployments. Planning and laying cable is expensive. Connecting to a cell signal is cheap.
Faster deployments. Planning and laying cable is time consuming. Connecting to a cell signal is fast.
Fast, more profitable pop-ups. Seasonal stores and other pop-ups can be set up in a day and taken down in a day in any location without laying cables, as long as there's a 5G cell signal available.
Faster speeds, less latency. Most stores will experience better speeds with 5G than they've been experiencing with their hard wired connection. In cases where a T1 connection is still in use, the improvement will be substantial.
Better continuity. Unlike hard wired connections, 5G makes redundancy and failover easy to achieve, making it more robust and resilient than traditional connections.
In the old days (last year), a new store would take 30 days minimum to get services installed. Today, with 5G, you can have service installed in two weeks or less.
Concerns About Rolling Out 5G for Retail
Despite its benefits, some companies have concerns about relying on 5G for retail connectivity. Capacity and reliability are the concerns most often cited, but both capacity and reliability are better on 5G than on most hard wired connections. In addition to automatic rollover when one system fails, 5G carriers maintain generators that provide backup power to their stations, so even if your site loses power, it won't lose connectivity.
Others are concerned about the operating cost of cellular. While it is still a little more expensive than broadband for the same capacity, the costs are growing more competitive. Carriers recognize that they have to be competitive in order to capture the business market, and they're making that happen. I predict that within two years, operating costs for 5G will be on par with or less than broadband. In the case of pop-ups where you only need the service for a brief time, the costs are already substantially lower with 5G than a hard wired connection.
Concerns About Rolling Out 5G for Retail
For many retail organizations, 5G will transform not only how they roll out new locations, but also how they maintain and upgrade existing locations. The reliability, capacity, and speed of 5G is a strong inducement to review existing installations and consider the shift.
Whether rolling out to new or existing locations, a successful 5G installation is simpler than a hardwired installation, but it still requires expert assistance. Equipment must be selected to support the 5G connection, and connections must be made and managed effectively to benefit from the increased speed and capacity of 5G.